What does the onboard community sound like, how do they express themselves and how do they communicate with each other and with the outside world? Refugee Action Kingston and KSA Music will use this space to produce new music, both instrumental and choral, that seeks to define the group's core identity through sound. Reflecting on how the group might explore ideas of being both together and apart, these aural experiments will be further developed in workshops on the boat and become part of the onboard performances in autumn 2020.
Check back to this page to see the progress of the project!
KSA Music (28 June)
Ying Liang
Holly Smith, Louisa May Pope and Zuzanna Wężyk
KSA Music (27 June)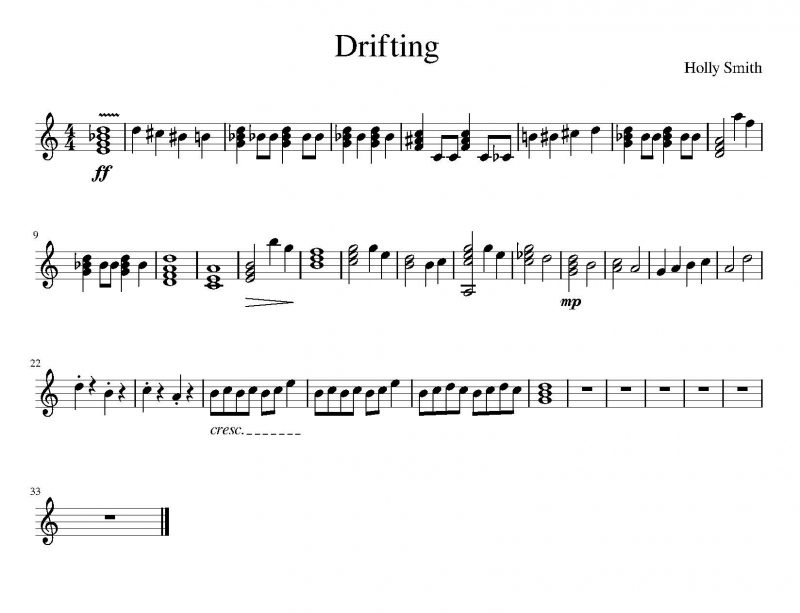 Holly Smith – Drifting. The story behind it is that there is a storm, and the earth splits and the pieces drift, but then the storm calms and the earth slowly drifts back towards itself, and two people run towards each other and embrace.
Refugee Action Kingston (25 June)
Farhang Nekoei-Rizi – Dreams. I am from Iran and I have been in the UK for about three years. I play a traditional musical instrument called Tombak (drum), which is made of wood and animal skin – this piece was composed in response to the project.
Refugee Action Kingston (24 June)
Mahmoud Omari – River Dreams. I play an instrument called the Oud and I studied music at the conservatoire of Damascus. I composed this piece in response to Zuzanna's Waters of Kingston. Water is a source of life and inspiration. Watching the River Thames flow through Kingston brings peace. How I wish my loved ones left behind could be here with me to see what I see.
KSA Music (24 June)
Zuzanna Wężyk
KSA Music (23 June)
Zuzanna Wężyk – Waters of Kingston. Performing this piece, I was imagining the Thames near Kingston. Currently, I am in Poland so I cannot be there. The resonating effects of the composition could illustrate nostalgia and hope at the same time.
Refugee Action Kingston (22 June)
Zakaria Abdul Razak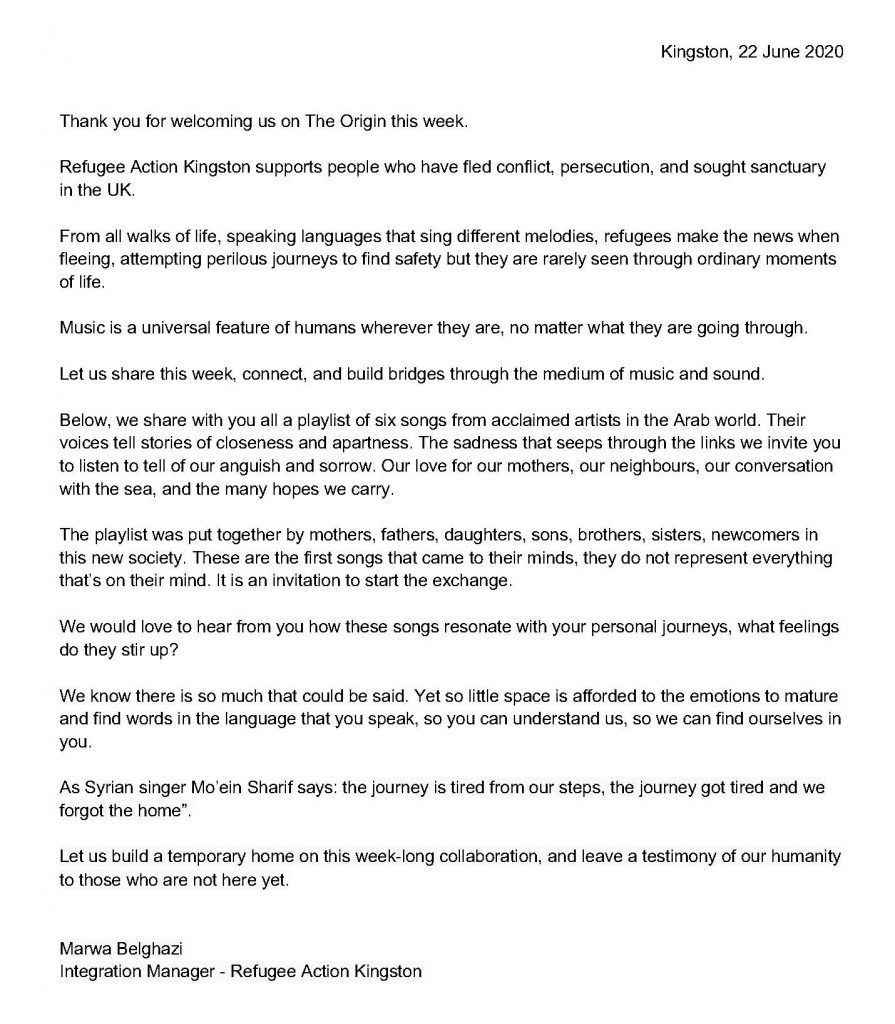 Playlist:
Mo'ein Sharif – Syrian singer
Song: Ta'ab El Meshwar (The journey is tired)

"Where is the path taking us
And to which shore is it taking us
Oh sea ..Leave us on the harbor
Keep us young ..leave us young"
Farid Al Attrach – Syrian-Egyptian composer, singer, virtuoso oud player, and actor
Song: Alashan Malesh Ghairak (because I have no one but you)

"I tried to forget you and I forgot my heart with you"
George Wassouf – Syrian singer
Song: Ana msafar Ya Ummi (I am travelling, Oh Mother)

"I am travelling, Oh mother,
Tell me goodbye"
Warda Aljaza'iriya/Warda the Algerian – Algerian singer, sometimes referred to as the Algerian Rose
Song: Khallik Hena (Stay here)

"Goodbye
I am not afraid anymore in this life of anything else
But the goodbye
And Being lost
I know what being lost is when you are far away"
Fairouz – Lebanese singer
Song: Ehkili 3an Baladi (Tell me about my country)

"Tell me, Tell me about my country tell me,
O breeze passing by the tree facing me
Tell me story about my family, a story about my house
Tell me a long story about my childhood neighbour"
Mohamed Abd El Wahab – Egyptian singer, actor, and composer
Song: Men Gheir Leh (Without a why)

"Without a why
We come to the world without knowing why
Or where we are heading
Or what we want"
Refugee Action Kingston
This group is funded by Love Kingston to deliver an inter-generational learning programme. Under lockdown, we have concentrated on providing contact and support and resources for families to be more creative and to have some fun away from the stress of home schooling. Children have been able to do art, crafts, read, play games and grow strawberries and other vegetables. For more information visit Refugee Action Kingston's website, Twitter @KingstonRefugee and Facebook Refugee Action Kingston.
KSA Music
Zuzanna Wężyk is a guitarist, singer, composer and songwriter. In January 2020, she obtained her master degree in Composing For Film TV at Kingston University. Zuzanna is member of Kingston University Stylophone Orchestra and she collaborates with collaborative project, Acid Grass Records. For The Origin she is involving Kingston University students and graduates in building her musical composition. Instagram: @muzotok, Facebook: Zuzanna Wężyk and YouTube: Zuzanna Wężyk.