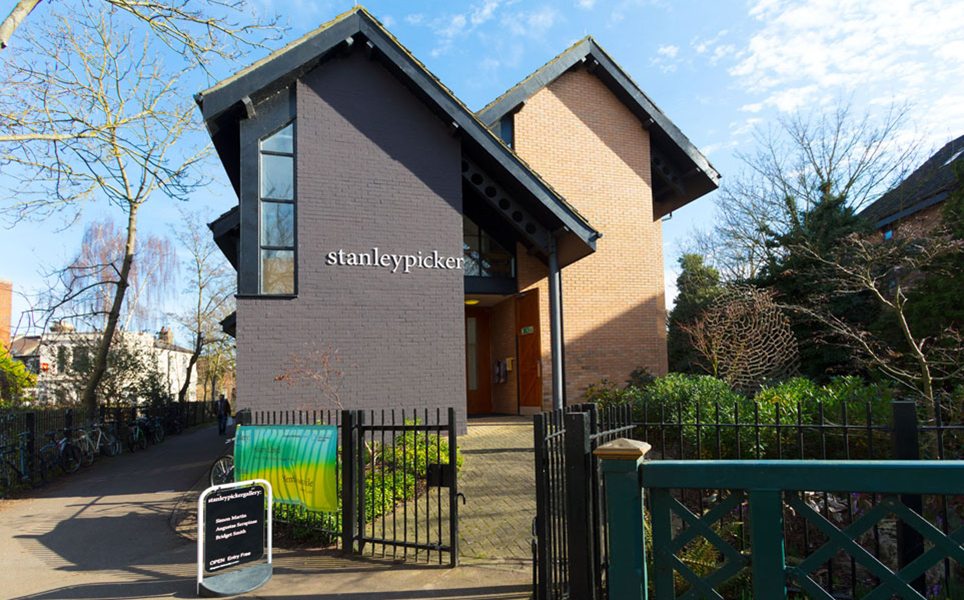 Visit
Currently Open: Tue-Sat 11am-5pm with At Home until Saturday 25 February
Important: If you or anyone in your group is feeling unwell, or has been in contact with someone with symptoms of Covid-19 please do not visit.
Physical Access: All public spaces at the Stanley Picker Gallery are ground-floor and step-free. Dedicated accessible parking is located right outside the Gallery, following the same parking instructions as below. Please call us on 0208 417 4074 if you have any questions to assist with planning your visit.
Group Visits: We can accommodate group bookings for all students, schools and community groups. To arrange a group visit please contact stanleypickergallery@kingston.ac.uk or call 0208 417 4074.
How to Find Us: Stanley Picker Gallery sits on a small island along the Hogsmill River, beside Kingston School of Art, at Kingston University's Knights Park Campus. We strongly recommend you take a minute to read the following directions, please click here to download a printable map with directions on how to find us.
Arriving by Train: Nearest stations are Kingston and Surbiton, with frequent trains from Waterloo, Vauxhall, Clapham Junction and Wimbledon (c. 20min journey). The Gallery is a short walk from Kingston railway station (see route described here below and highlighted on the downloadable map above). From Surbiton station the walk is 15/20 min, with regular buses running to Kingston (5 min) and taxis easily available near the station.
Walking from Kingston Railway Station (approx 10 minutes): Exit station and follow Clarence Street (down the right-hand side of The Rotunda/Cinema) and continue past the telephone-box sculpture by artist David Mach on your left. Keep straight on, crossing the main road at Fairfield North. Kingston Museum will be on your left on Wheatfield Way with Fairfield Park ahead. Cross the road to the Park and take Fairfield West, walking anti-clockwise around the park and onto Fairfield South. Then take the second right-hand exit down Mill Street straight to the Stanley Picker Gallery.
Arriving by Car & Parking: Free on-site parking at the Gallery can be accessed at Portland Road, via the entrance to Kingston University's Middle Mill site. All visitors must request a parking permit from Middle Mill Reception, on the right after the barrier; the Gallery is not responsible for fines incurred by vehicles parked on site without a permit. Important: There is no vehicle access via Mill Street, so please do not follow satellite navigation systems that instruct this route.
Frequently Asked Questions:
What facilities will be open? There are accessible public toilets, with baby changing facilities, available onsite. Our shop is open.
Is there somewhere to store my bike? We have bike racks adjacent to the Gallery available for parking your bike while visiting.
Is there any onsite parking available? Stanley Picker Gallery has free on-site parking that can be accessed at Portland Road, via the entrance to Kingston University's Middle Mill site. Please request a parking permit from Middle Mill Reception during your visit.
We Also Recommend: Kingston upon Thames has a wealth of cultural, heritage and tourist sites to explore when you visit. We recommend Kingston Museum and its unique collection of Victorian pioneer photographer Eadweard Muybridge, found along the route from Kingston station to the Gallery. On Kingston Hill beside Richmond Park the our University partner venue Dorich House Museum is former studio-home of sculptor Dora Gordine. The Rose Theatre, near to Kingston's historic Market Square, offers a comprehensive programme of live theatre and music. The Thames riverside and Richmond Park are beautiful places to relax and enjoy. Visit In Kingston for local information and events.