Kingston University & Stanley Picker Gallery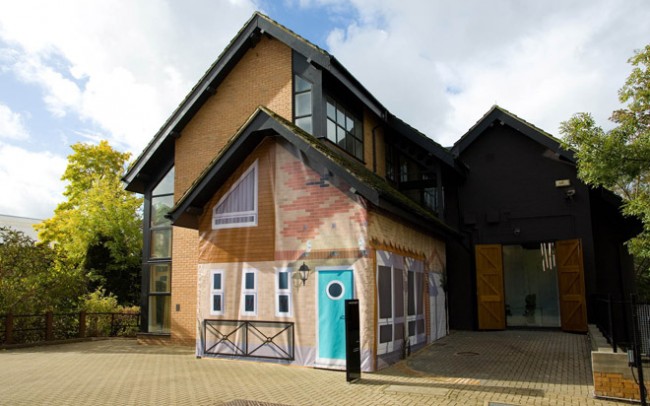 Kingston University & Stanley Picker Gallery
Our History, Programme & Fellowships
Exhibiton Venue & Social Space
Stanley Picker Gallery is Kingston University's dedicated public arts venue and sits on an island alongside the Hogsmill River beside the Faculty of Art Design & Architecture at Kingston University's Knights Park Campus. Established in 1997 by Kingston University and the Stanley Picker Trust the Gallery now forms part of Arts Council England's National Portfolio. Stanley Picker Gallery has an ambitious, diverse programme of contemporary art and design exhibitions as well as events throughout the academic year to which all students are welcome to attend.
Stanley Picker Gallery's main programme consists of up to four major exhibitions per year, including newly commissioned work resulting from our Stanley Picker Fellowship programme. This annual scheme provides innovative artists and a designers with the opportunity to create and present a significant body of new work as part of the research culture within the Faculty of Art, Design & Architecture. Previous Fine Art Fellows include Matthew Darbyshire, Andy Holden, Laura Oldfield Ford, Nicole Wermers and 2012 Turner Prize winner Elizabeth Price. Previous Design Fellows include Marloes ten Bhomer, Boudicca, Daniel Eatock, Shelley Fox and London Design Medal winners El Ultimo Grito.
Alongside these exhibitions Stanley Picker Gallery runs events and activities for students.
All upcoming events are listed in the Talks and Events section.
Our Gallery Lobby is both a social space and display area available to students to hold evening events or showcase their work. Please see Opportunities for more details on how to stage an event here.
Image: Matthew Darbyshire A New Residential Development for the Stanley Picker Gallery (in homage to Kenneth Wood) 2012 digitally printed vinyl. Rendering Bob Hobbs