For their Stanley Picker Fellowship project Portal Tables, The Decorators reflect on the paradoxical way in which the pandemic has both vilified microbes and prompted a renewed interest in homemade practices of nurturing microbial life.
Taking the idea of commensality – eating together – and extending it beyond the human, Portal Tables considers how microbial bodies participate in such encounters. Humorous and affective, Portal Tables is a furniture series, a film and an exhibition that explore domestic interspecies intimacy in food-making. The project comments on the contemporary obsession with microbial life, probiotics and wellbeing, and speculates on the possible relations and social encounters (political, tender, economic, friendly) across bodies and species. Portal Tables furniture pieces are flatpack and easy to wash. They can be used anywhere in the house – living room, bedroom or kitchen – or outside.
Food fermentation gained momentum during the COVID-19 pandemic years of social isolation, with people sharing home-made recipes through social media. The hormonal joy produced by bacterial communities in the human gut serves perhaps as a substitute for the social joy of IRL human communities? In parallel, a growing area of research has been exploring the bacterial transformation of xenobiotic materials as a means for plastic recycling, opening up ethical questions regarding the use of bacterial life as a solution for human pollution. Created amidst a pandemic and a climate crisis, the polyurethane inflatable furniture pieces reflect on relations of commensality between human and bacterial communities, and their environmental and emotional consequences.
In Spring 2021, The Decorators launched their project with Part 1 of the video-essay Portal Tables: Connecting Multiscalar Communities (above). From 18-26 September 2021 a preview of the project is displayed at London Design Festival at V&A with the furniture piece Sofa-Bread, before the project is premiered in full at the Stanley Picker Gallery from October 2021 together with Part 2 of the video essay.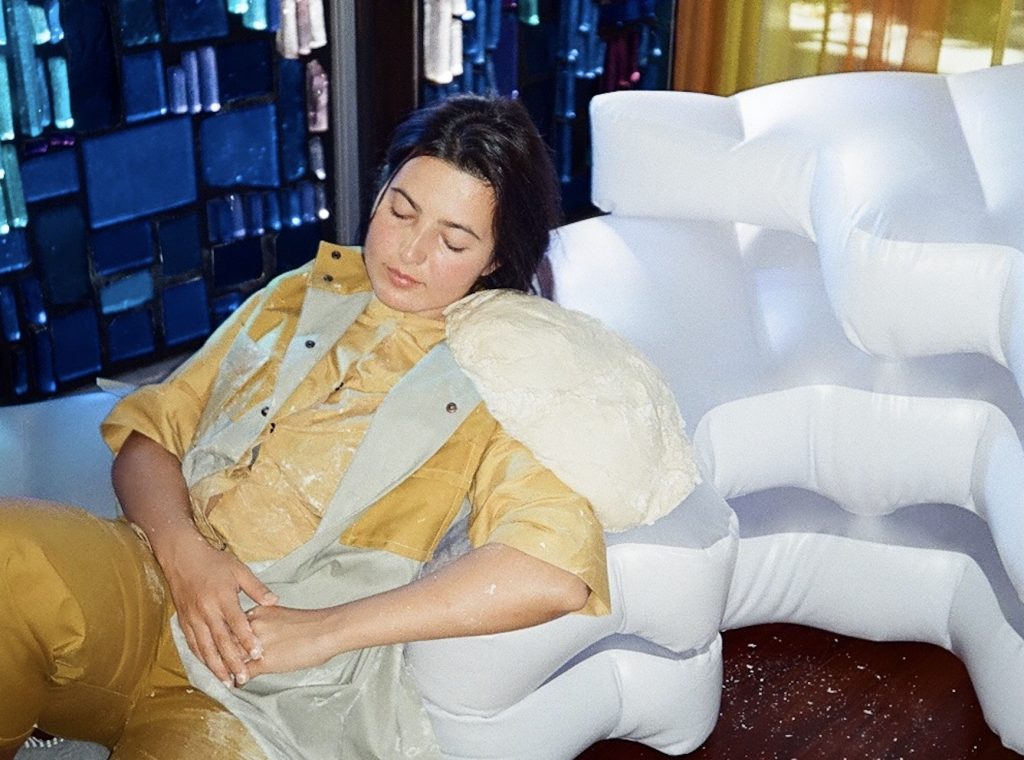 Sofa-Bread is designed to provide moments of conviviality across humans and bacteria during the fermentation process involved in making bread. The form invites a diversity of postures for two people– feet up or down, upright or laying – breaking down the conventional seating prescription of a regular sofa and providing opportunities for affect to develop between bodies (human or not). The two ceramic bowls are for bread dough be aired while users rest on the sofa. On the inflatable two words are embossed – "non-human" and "affect". Sofa-Bread was activated with the performance Resting (2021) by Laura Wilson, performed by Elina Akhmetova and Piedad Seiquer with costumes by Lucie Kordacova.
The film is directed in collaboration with Sergio Márquez, with graphics and motion design by Stephen McLaughlin, original soundtrack by Maxwell Sterling, and featuring activations by Justina Jang, Laura Wilson and Inês Neto dos Santos. Filmed on location at The Picker House, Kingston upon Thames.
The Decorators is an interdisciplinary design collective founded by Suzanne O'Connell, Carolina Caicedo, Xavi Llarch Font and Mariana Pestana in 2011. With backgrounds in landscape architecture, spatial design, curation and psychology, they work on spatial design projects that aim to reconnect the physical elements of a place with its social dimension. The Decorators' collaborative cultural programmes aim to expand notions of place, community and commensality.